with
BIZ Info Zone Show
Guests
Dr. Ina Gilmore and Coach David Sheldon
Caregiving With Purpose
Transform Your Caregiving into the Blessing It Is!
What do you do when you are an entrepreneur and a caregiver?
DR. INA GILMORE, MD and COACH DAVID SHELDON, CPC cover the subject and answer the tough questions because you might be surprised to discover you're a caregiver and an entrepreneur.
The traditional definition of caregivers as someone who cares for an invalid at their bedside, is incomplete.
This discussion contains information on other ways you may be a caregiver, and how to find the strength and confidence of becoming empowered and feeling supported. 
Even if you are not a caregiver now, you likely will be one at some point in your life.  And as an entrepreneur you may have employees who are caregivers.
Rosalind Carter said "There are ONLY 4 types of people in the world."  Which one are you?  Watch the video and find out.
Discovering the problems caregivers face and their solutions is important for everyone. In addition what you will learn about managing stress and achieving optimal health and wellness for yourself will have a positive impact on every area of your life.
Dr. Ina Gilmore MD and Coach David Sheldon CPC shed light on topics that include:
–Who is a caregiver?
–The Four Fundamental Problems of Caregivers and tips to solve them starting right now
    • Understanding & transforming stress
    • Nutrition & digestion
    • Movement & mobility
    • Sleep
Watch the replay of Dr.+Ina Gilmore and +David Sheldon with Host, +V. Lynn Hawkins on the topic of Becoming and Empowered Caregiver.  See what Dr. Ina says about "Acceptance" and "Gratitude"!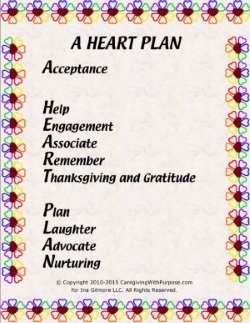 Enjoy the following gifts from Dr. Ina for being a part of the conversation and a part of our audience.  We thank you for joining us!!
[2]  DOUBLE BONUS:

  Take a step up to the ALMOST FREE ($0.01) MEMBERSHIP at "Caregiving With Purpose" and get access to the wealth of resources and information on the website, as well as access to the weekly calls with Dr. Ina and David as they continue the discussion on caregiving issues and give live support to caregivers around the world.
This 9 week program is designed to give you the education, training, support and inspiration for caregivers of all backgrounds and degrees of experience.
BIZ Special Early Bird Cost to Attend
 Regularly $147  
ONLY

$97

 Before Midnight  3/16/15

When you Enroll, Here are the Added Bonuses You'll Get…
Bonus #1  –  When you enroll now we'll also include a 3-month membership in the CWP Gold Membership that connects you to the CWP community of caregivers after the 9-week program.  Your CWP Gold Membership includes the weekly 60-minute group call with David and Dr. Ina.
All the calls are recorded, and available for you to listen if you miss a call or want to listen again.
Bonus #2  –  One-on-one Caregiver Strategy Session with David and Dr. Ina. Here you can confidentially discuss your caregiving, and leave with a workable plan for your next simple steps.
"If you are a caregiver now, have been in the past, will be a caregiver in the future, or will receive caregiving, you will be well equipped to help yourself and others by completing this Program. Join David and me as well equip you for your journey!"  ~Dr. Ina Gilmore
Purpose and meaning make each day easier and happier for you and for those to whom you give care.  On a deeper level they transform the experience and lives of everyone you touch.
Join the Fundamentals & Foundations for Caregivers Program now. 
---
NEXT

on the

BIZ Info Zone

Show:  
BOB BURG
Speaker, Transformational Leader and Author of "The Go-GIVER", "GO-GIVERS Sell More", "Endless Referrals", "Adversaries Into Allies", and more …