Lapis Mastery Membership Program
Congratulations!
Welcome to the LAPIS Harmonize Heart and Mind Mastery Membership – Build Your Business, Increase Your Revenue Life, Health, Business, and Wealth …
Earn More, Do More Good In The World! 
Do you know how amazing you are?
Yes? … Now … do you believe it?
[1]  When you think about building your business, are you in struggle and doubt?
[2]  Do you have so much going on that you feel overwhelmed and confused about what to do next?
[3]  Do you see your Things To Do List as a heavy boulder weighing you down from accomplishing anything, or as your Treasure Chest filled with amazing opportunities that can lead you out of struggle and into ease and flow?
These questions are key in you knowing whether or not you are …
–> Done with the struggle!
–> Finished with the long hours and what felt like focused effort yet the income still isn't there!
–> Over thinking about what else can be done and being sucked into 'shiny object syndrome?
If you're ready to break the cycle of disappointment and feeling stuck, BREATHE!!  
Yes, take a breath now and continue reading … you'll see why!
Your HEART Ventures
** Announces **
The Lapis Mastery Business Development 
Program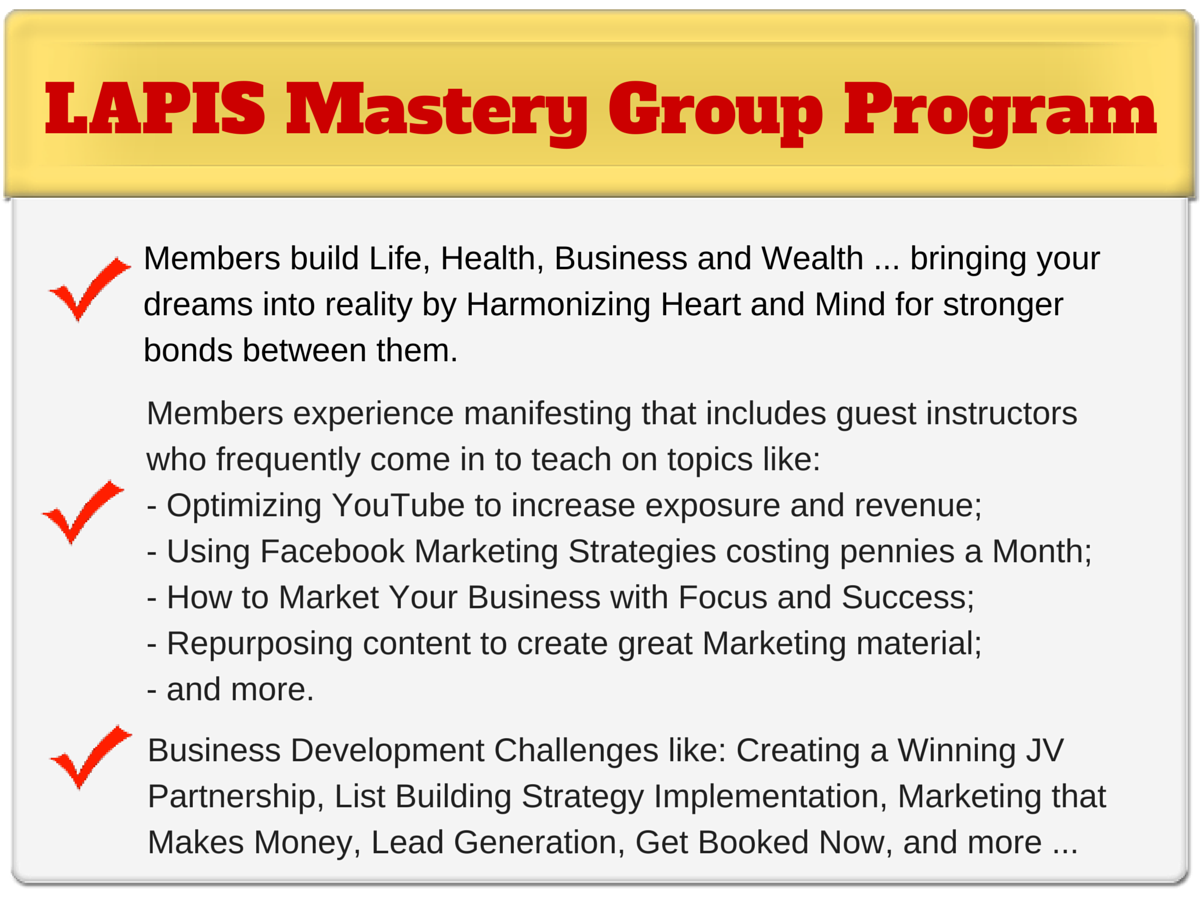 Lapis Mastery Members enjoy the unique business and life building experience of being able to sign up for the Seat of Harmony where your program leaders will help you discover and define your vision, mission and those things that will help you build your business using the Center of your Vortex as the focal point of client and customer attraction. 
Lapis Mastery participants are encouraged to enjoy the social enterprise involvement of the group and contribute to the betterment of the lives of others, and are encouraged to think about designating a small percentage of your added revenue for the benefit of a favorite charity, or towards a heartfelt favorite cause. Doing this, or something similar, you can save telling people you care, and instead show them you care.
---
The Lapis Mastery Program is Ideal For:
Coaches,
Authors,
Speakers,
Trainers,
Consultants,
Inspirational Leaders,
Sales Professionals, and more …

 And here are just some of the great Bonuses you'll get upon joining …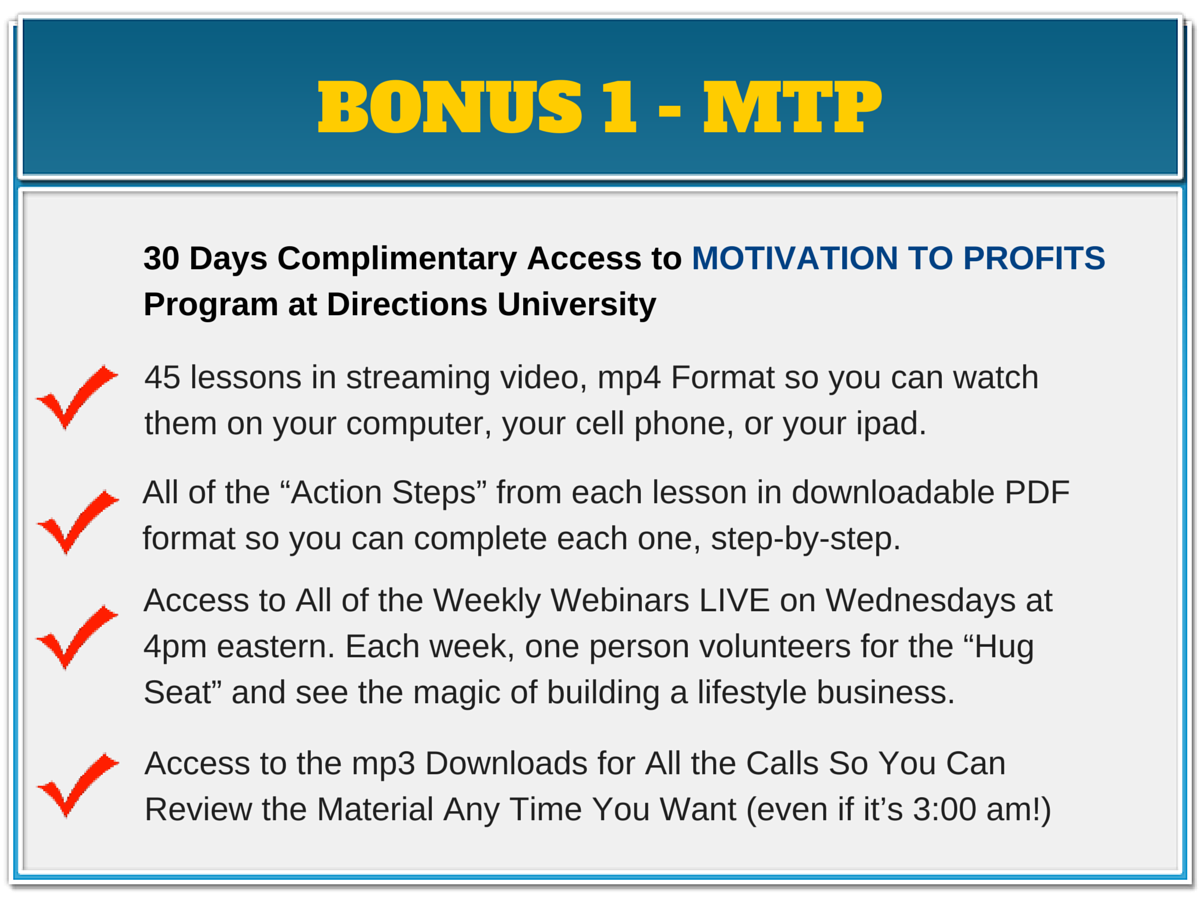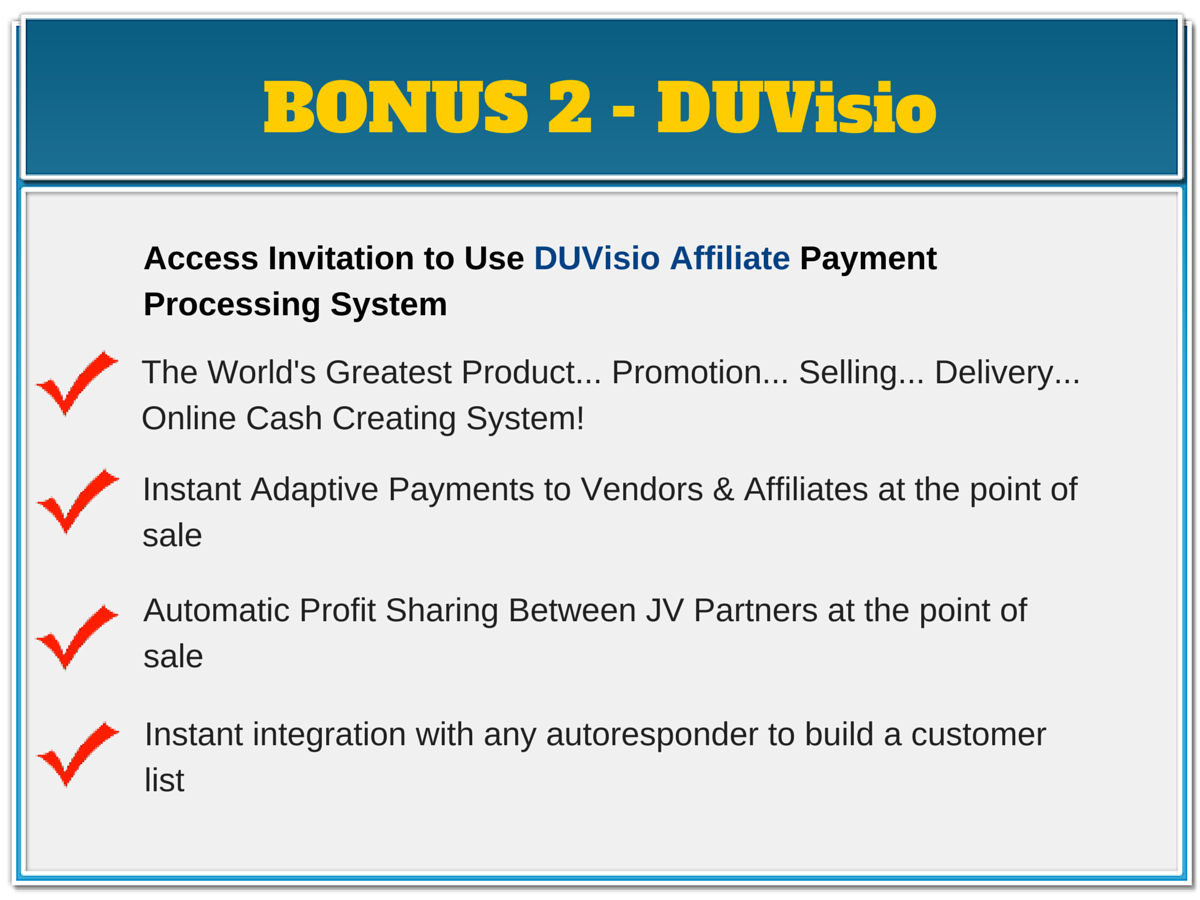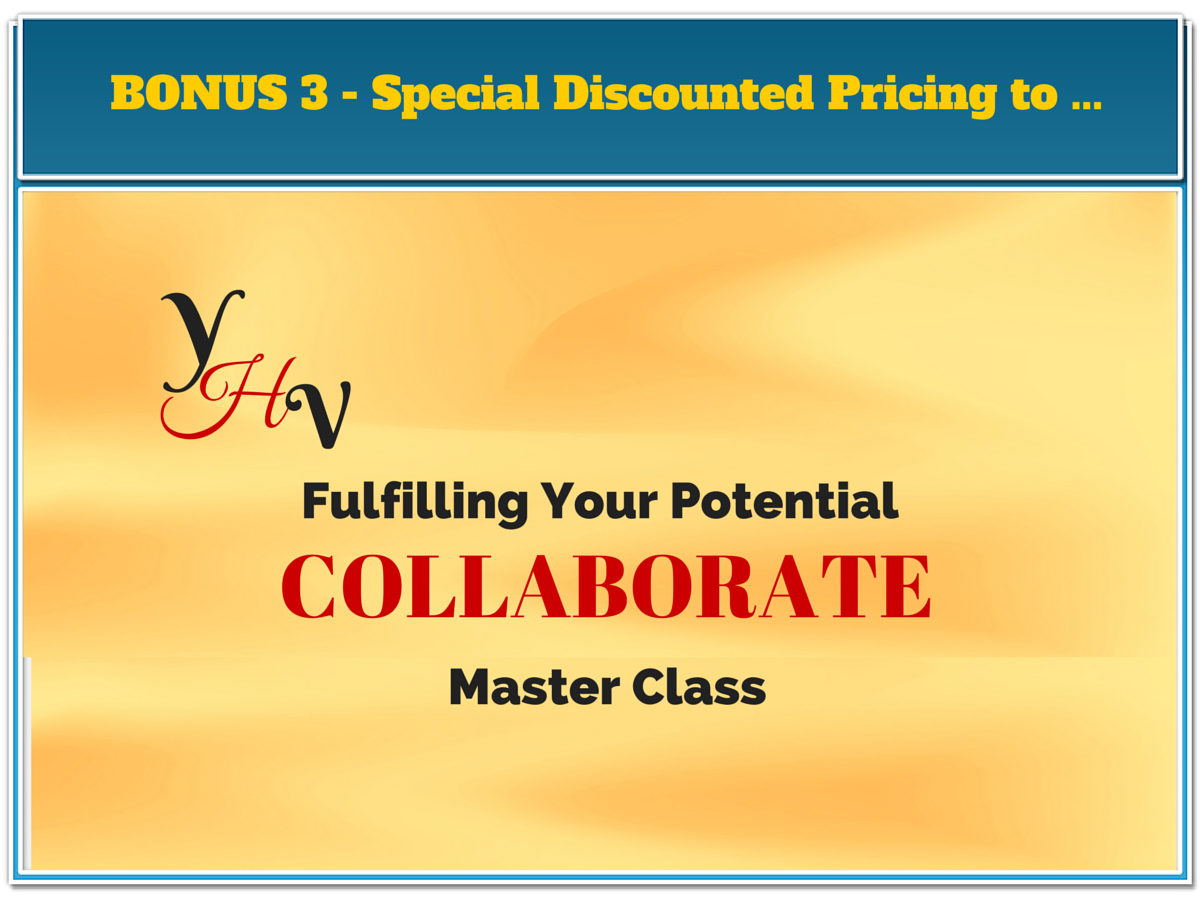 The COLLABORATE Master Class will be happening in June and you get access at a special Member Discounted Price along with an opportunity to market it and earn affiliate income!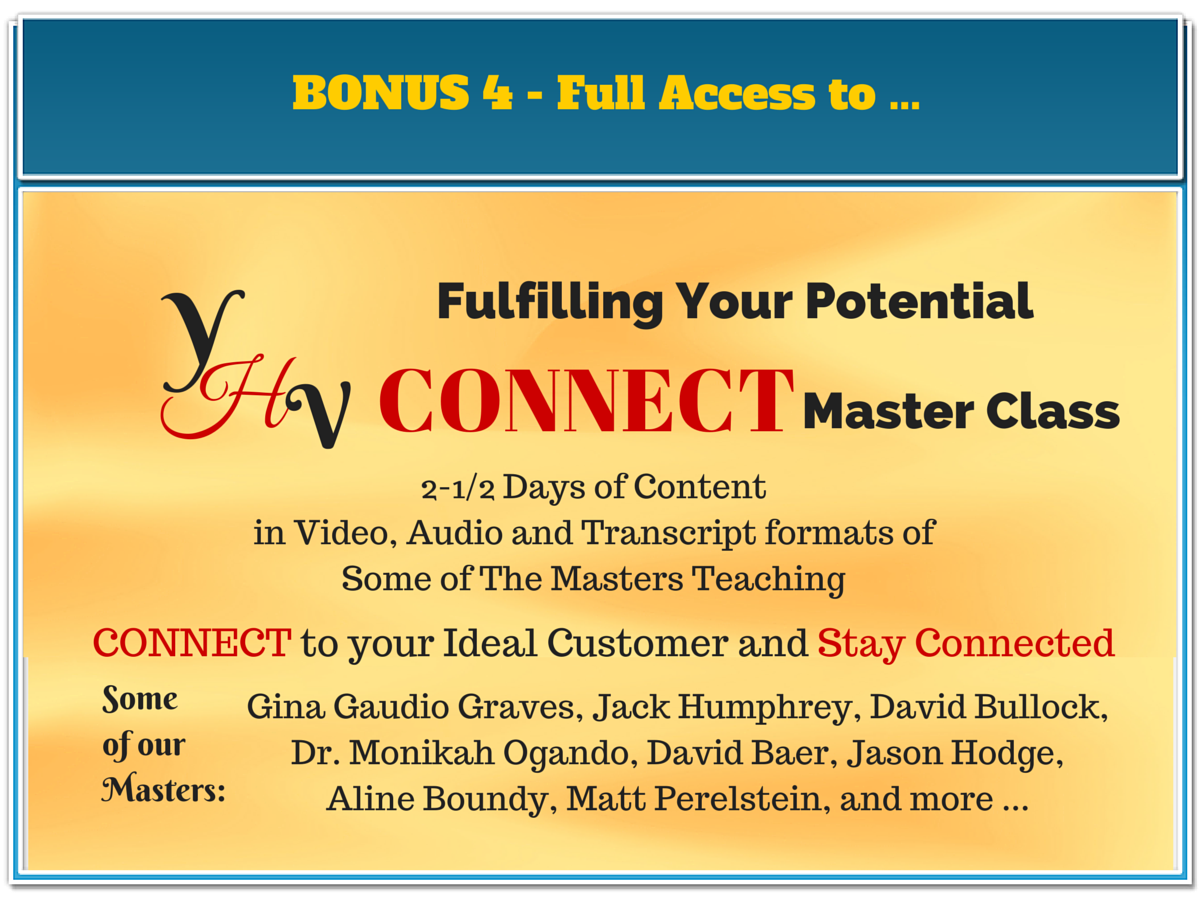 The CONNECT Master Class concluded in April 2015 and you get full access to all of the great information and bonus gifts that were offered during that 2-1/2 days of full content delivered over Google Hangouts On Air!  Talk about EXPLOSIVE! 
CONNECT

and

STAY CONNECTED! 
---

  3 WAYS FOR EASY PAYMENT!
Option #1

MONTHLY MEMBERSHIP

Option #2

QUARTERLY MEMBERSHIP

Option #3

ANNUAL MEMBERSHIP

$27 per month

$75 per qtr

$270  per Year

 

The LAPIS Related
'Your HEART Ventures'  
Gemstone
Every "Your HEART Ventures" program has a gemstone associated with it. We feel that identifying with a high energy gemstone adds to the value, as well as the energy that encircles all of our efforts. Lapis is an earth gemstone whose royal blue color stirs memories of the infinite source of life within so you can develop your business with ease and flow and enjoy living your purpose, while bringing your gifts into the world.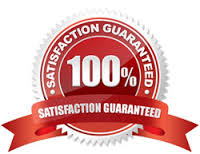 Cancel at any time during your membership purchase, and no further billings will be made.  Cancel within the first 30 days and we will refund 100% of your purchase.    No questions asked!
We appreciate you and want you to be happy.

All Payment Plans are Renewable Monthly, Quarterly or Annually at the same terms.  This Introductory Offer will expire soon and the price will increase.
Make your selection Now to Get Started Fast! 
Option #1

MONTHLY MEMBERSHIP

Option #2

QUARTERLY MEMBERSHIP

Option #3

ANNUAL MEMBERSHIP

$27 per month

$75 per qtr

$270  per Year

 

Harmonize Life and Business

Add More Value in the

LAPIS Mastery

Business Development Program

 Sign Up 

WE CAN HARDLY WAIT TO WELCOME YOU IN




 

 
 
 
Invite Your Friends and Earn Money Back!!
Become an Affiliate / Earn More Money!!

To Your Massive Success and New Heart Ventures!!
Cynthia   and    Lynn 
All Rights Reserved (C) 2015   |  Your Heart Ventures
Center for Loving Consciousness  |  Skyhawk Enterprises  |  Heartmonics(TM)  |  P3 ASE

Your HEART Ventures © 2015